Top Products For Current Hair Care With Kérastase Chronologiste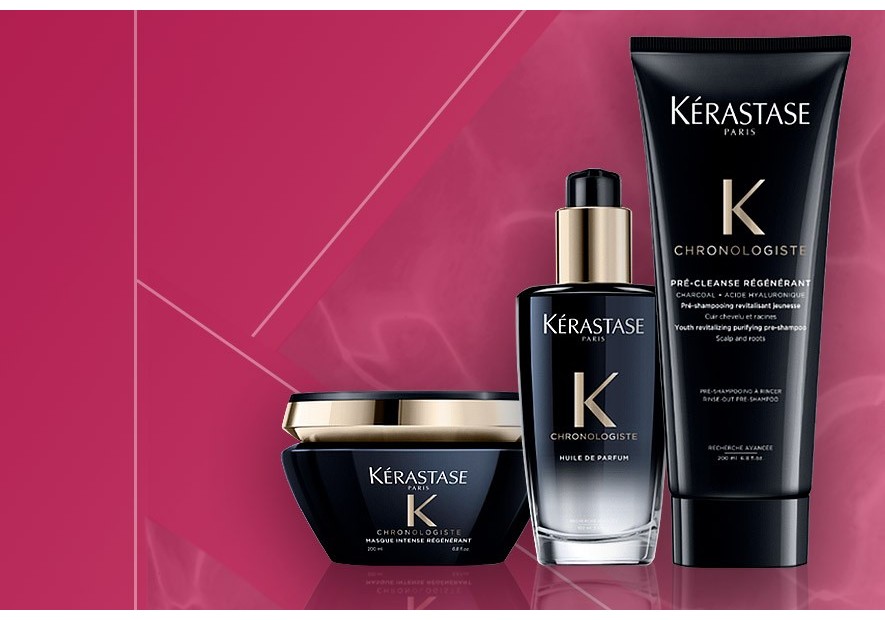 Have you heard about the Kerastase Chronologiste line?
If you love multifunctional products, then the specialists of the French brand Kerastase have a surprise for you. They combined the best ingredients in their hair care products with the talent of modern perfumer Alberto Morillas. All  Chronologiste products have a unique fragrance of tea rose, musk, and light wood.
Chronologiste gange is created to help you to hight with hair aging and keep your hair healthy and well-groomed at any age! This is the most intensive  Kerastase regenerating line.
Let's take a look at top products for current hair care with Kerastase Chronologiste.
Kerastase Chronologiste Bain Regenerant Shampoo
This is the most concentrated shampoo in the history of the brand Kerastase. This is why the remedy has such a powerful regenerating effect. The shampoo gently cleanses the scalp and revitalizes hair from roots to tips. The hair becomes softer, shinier, and smoother. The active ingredients of the shampoo strengthen and restore the fibers of each hair. A special Abyssine molecule strengthens the hair and has an active positive effect on the regeneration process. Vitamins A and E preserve the richness of hair color and protect from aggressive environmental pollution.
Kerastase Chronologiste Youth Revitalizing Hair Masque
The revitalizing regenerating mask is designed to intensively nourish the hair. It is enriched with hyaluronic acid, Abyssin, and vitamin E. The components effectively fight the signs of aging of the scalp and strands. They enrich the hair structure with life-giving moisture, prevent the formation of fuzz and give extra shine from roots to ends. Vitamin E protects from the aggressive effects of ultraviolet radiation, and environmental pollution.
Kerastase Chronologiste Thermique
This restoring heat protection for hair with the anti-frizz effect will help to create  your dream styling without harm to the hair. It has a long-lasting effect for up to 24 hours and provides high UV protection. The formula of the product is enriched with such components as Abyssin, hyaluronic acid, and vitamin E. The active ingredients help to improve the structure of the strands and intensively moisturize them, as well as prevent aging. The light consistency is easily distributed due to the convenient dispenser.
Kerastase Chronologiste Youth Revitalizing Purifying Pre-Shampoo
This pre-shampoo has gained popularity all over the world because of its intensive detox effect for hair and scalp. The special formula effectively cleanses the scalp and hair, removing up to 96% more impurities compared to an ordinary shampoo. Chronologiste pre-shampoo will provide salon care at home for your hair!
Kerastase Chronologiste Huile de Parfum
It is not only a perfume, it is a fragrance oil that you can apply after styling for a finishing touch of shine and softness. Huile de Parfum is a unique treatment that works for all hair types. It helps to fill each strand with a healthy shine. Just a couple of drops are enough to give your hair a well-groomed look. This hair perfume has the scent of tea rose, musk, and light wood.
At utiee.com you can find all Kerastase Chronologiste products for a good price. Visit our website! We offer free returns on all products and free shipping on orders over $35. All products are original and dermatologically tested.
At Utiee we care about your hair health!
Price
$39.89
Regular price
$41.99
Price
$48.35
Regular price
$50.89