Top 5 oils for hair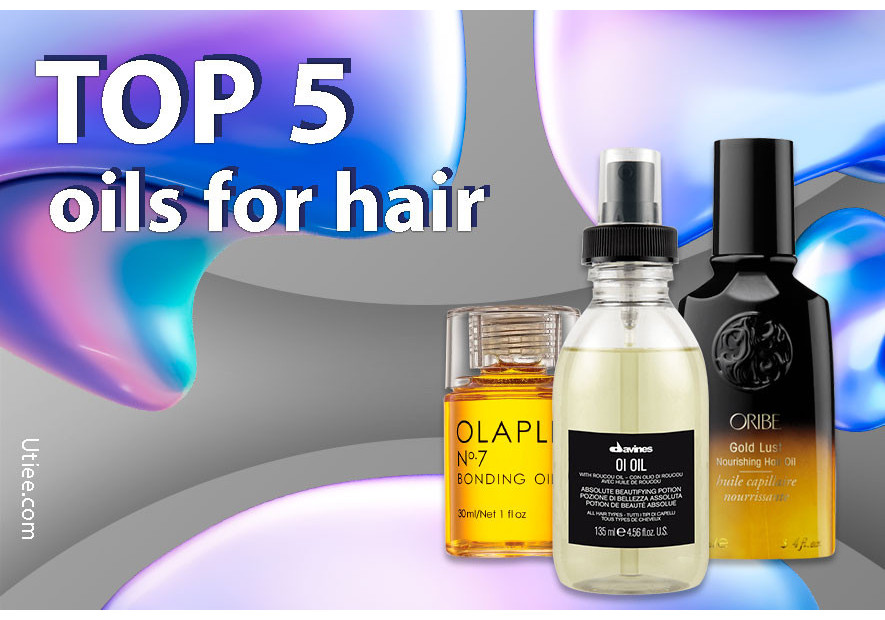 Our hair is constantly exposed to many negative factors direct sunlight, pollution, styling products, hair dyers, etc. The most harmful thing for our hair is heat styling, in order to protect your hair you need to use special protective products.
At Utiee - beauty store we made research and chose the top 5 oils for hair that will help to protect your hair from harmful factors and maintain its health. Oils don't only work as heat protection but they also restore and moisturize hair.
Oils should become a part of your hair care routine. Let's take a look at the 5 oils we suggest you try.
Kérastase Elixir Ultime L'Huile
It is an all-in-one heat protection oil that deeply nourishes and restores dull hair. It protects the hair up to 230°C allowing you to create a variety of hairstyles with minimal damage to their structure.
How to use Kérastase Elixir Ultime L'Huile
Damp hair: Apply depending on the length and thickness of your hair 1-3 pumps to towel-dried hair. Spread over the entire length avoiding roots, comb the hair, don't rinse. Style your hair with a blow dryer or dry it naturally.
Dry hair: Apply 1-2 pumps to hair after blow-drying as a finishing treatment to add shine and protect from heat.
Recommendation: Add 1 to 4 pumps of oil to your hair mask or conditioner for extra nourishment.
Olaplex No. 7 Bonding Oil
Olaplex No. 7 Bonding Oil is an oil and styling product. It doesn't only fix the hair, but also effectively restores the structure of damaged and weakened hair. It rebuilds the keratin bonds within the hair shaft, strengthening along the entire length and improving texture. Olaplex No. 7 also provides thermal protection up to 450°C.
How to use Olaplex No. 7 Bonding Oil
Apply a few drops of oil to damp hair, and then style in the usual way. To extra shine apply the product to dry hair.
Davines OI Oil
Designed for all hair types. You will be pleasantly surprised by the results of this oil. It has a strong antioxidant that protects, nourishes, and restores hair structure. This oil preserves water molecules in the core of each hair providing long-lasting moisture.
How to use Davines OI Oil
Apply a few drops to damp hair avoiding roots.
Oribe Gold Lust Nourishing Hair Oil
The unique thing about this oil is that you can apply it to your hair and scalp. It has a vitamin complex that activates blood circulation, awakens dormant bulbs, and has a restorative effect on damaged strands. This oil is a great solution if you are looking for a product that prevents hair breakage.
How to use Oribe Gold Lust Nourishing Hair Oil
Apply to damp hair, carefully distributing along the entire length. For extra shine apply a small amount of oil to the hair.
Bumble And Bumble Hairdresser's Invisible Oil
This light oil vanishes into hair leaving it feeling soft and shiny. A lightweight blend of six oils absorbs quickly providing hydration. This oil helps to detangle hair and prevents breakage. It has UV filters to protect hair from direct sunlight and heat styling tools. This oil is perfect for fine dry, damaged, or color-treated hair.
How to use Bumble And Bumble Hairdresser's Invisible Oil
Apply a few drops to damp hair before styling or use on dry hair to add shine. If your hair needs extra moisture, add a few drops to your conditioner.
Check out our website utiee.com to get your perfect hair oil!
We offer free US shipping over $40 and free returns. All products are originals.
At Utiee we care for your natural beauty!
Price
$36.09
Regular price
$37.99